Having first studied Theology and then Web Design, which later became full-on IT support and programming, I moved on to become a full-time professional photographer with works published in various magazines (including National Geographic) as well as winning a couple of national photographic competitions (SA Pilot and WineSA).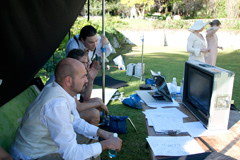 ​​​​​​​
Having all this under my belt I decided to combine all my skills under one umbrella and so film MAGNIFICATION (Pty) Ltd was born. 
Here we give you more than just a video, we're passionate about telling YOUR WHOLE narrative and if that includes creating a coffee-table book, a couple of photos as well as a website on which to host that STORY then that's what we'll do.
BOOK US

- 
We're

Passionate, Professional and Personal

.